By SUE COLETTA
Forensic Psychology is a fascinating field, especially as it relates to eyewitness testimony. Can we always trust our memory? Let's test your observation skills. In this short video, count the number of times the ball is tossed from one white-shirt player to another. Sounds easy enough, right? Give it a try.
Well, how'd you do?
This phenomenon is called inattentional blindness. Your mind perceives what's happening, but you do not attend to it. In other words, there's nothing wrong with your eyes. But for some reason this information is more subconscious than conscious. The best known demonstration of inattentional blindness is a study performed by Simons and Chabris (1999) known as Gorilla in the Midst.  It's highly copyrighted so I couldn't embed it here, but if you'd like to check it out, click the title.
Imagine the implications inattentional blindness has on eyewitness testimony? Often times victims of violent crime are so focused on the gun they see little else.
Change blindness is another phenomenon that effects key elements of our surroundings, including the identity of the person right in front of us, even if that person has changed places with someone else. If you'd like to use change blindness in your WIP, check out The Door Study.
The implications of change blindness on eyewitness testimony could delay solving the crime. Always a good thing in thrillers. A detective could be led down numerous dead-ends, and so could the reader.
In a violent crime, "weapon focus" muddies the waters. Participants in another study watched a film of a kidnapping attempt. Would it surprise you to learn that actions were better remembered than details?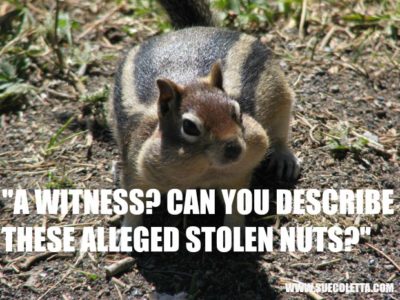 Action Details
When we witness a crime, we absorb the information by the actions that happened during the commission of the crime. For example, a man pointed a gun at a woman, pushed her into his van, and sped away. The central information — what an eyewitness focuses on — and the peripheral information — what's happening around said eyewitness — often becomes skewed with the surge of adrenaline.
Such findings suggest that when we witness a traumatic event, our attention is drawn to the central action at the expense of descriptive details. Yet, in other circumstances, such as non-violent events, our attention may be spread more evenly between the two.
Which brings us back to inattentional blindness. This phenomenon occurs when attention is drawn toward only one aspect of an eyewitness' surroundings, resulting in lack of information. Which writers can use to our advantage.
Weapon Focus
The use of weapons complicate matters even more. When a gunman brandishes his firearm, an eyewitness tends to focus on the pistol rather than other details, such as the suspect's hair and eye color, build and dress. Researchers have tested this theory, as well.
In the study, they showed participants videos of robberies — robbery involves a weapon and a victim; burglary does not— where one group witnessed the robber with a concealed pistol and other group witnessed the robber with the gun in plain sight. When researchers asked the concealed weapon group to identify the robber in a line-up, only 46% of participants could identify the suspect. From those who watched the video where the robber brandished the weapon, only 26% could identify him.
Schemas
In order for an eyewitness to be able to answer a question, they must be willing to respond. And it's this willingness that can impair their memory of the events. Not everything we "see" or "experience" is stored in our minds. Our brains don't work like computers where each bit is encoded. Rather, we make connections to other things in order to process information. If you're interested in learning more, I've written about Subliminal Messages on my blog.
Episodic memories — memories involving an event — are organized in our minds as "event schemas." This allows us to store knowledge, events, and activities by connecting to what we classify as "normal." In other words, rather than remembering every time we dined at our favorite seafood joint, we tend to build a general impression of seafood restaurants … the smell, the atmosphere, and so on.
However, the use of schemas can distort memories. The perfect example of this is when someone asks me about my childhood, then asks my brother. From our answers one might think we grew up in different households. Many factors contribute to how we remember times and events. Such as, influence. When gaps exist in our memory we tend to incorporate new information in an attempt to fill in the blanks. Although useful in everyday life, this poses real problems for investigators, because this new information is often constructed after the crime took place, and leads to false testimony.
I hope you've enjoyed this peek into Forensic Psychology. We've barely scratched the surface. Next time, I'll share how an investigator should pose questions to an eyewitness. Perhaps you could use the techniques in your WIP. Would that interest you?
So, TKZers, how many of you saw the gorilla? Are you tempted to use false eyewitness testimony in your WIP?